GSM Palm Pre to be available with Vodafone?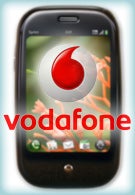 Bad news people, Palm is not going to officially announce the GSM version of its latest smartphone, the
Pre
, at the MWC. However, you could still see GSM Pre devices here at the show, and what is interesting is that the device has been spotted with a Vodafone Spain SIM card and Vodafone ES, listed as the active WWAN carrier on a demo device. Unfortunately, the manufacturer would not give out any information about a possible agreement with the carrier. The same goes for Vodafone itself, as it denies that anything has been settled. Still, this seems like a rather appropriate move from its side, since its arch-rival, O2, has an exclusive deal with Apple for its iPhone 3G.
source:
PreCommunity