Foxconn HR says new iPhone to launch in October
36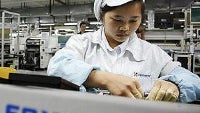 If you can't get the information from Apple, why not try Foxconn? Apparantly, that's the right tactic to get the release date of the new iPhone. And this time, a Foxconn HR says it's October.
"We just got the order. It [the release] will be around October,"
the head of human resources at Foxconn's Taiyuan factory said for South Korea's Maeil Business Newspaper.
To back up the rumor, comes a massive head-hunt apparently going on in Taiyuan. Another media outlet, The Maeil Business Newspaper, phoned the local Foxconn factory that's said to have been contracted for the new iPhone and it confirmed that it's hiring big.
"Yes, it's true we are hiring a large number of workers,"
the human resource manager said.
Disappointing for those who'd already marked the summer as a "break the piggy bank day," but just in line with the release of the 2011 iPhone. Of course, this kind of rumors may or may not be based on reality, so take them with the grain of salt usual for Apple.
Recommended Stories