Former Google+ boss is making a heart rate monitor for the Apple Watch
4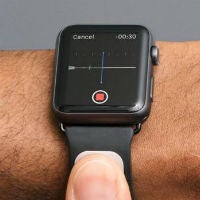 Vic Gundotra was a star at Google for a while. He was the senior vice president of engineering for Google and the head of Google+, and was even reportedly on the shortlist of candidates to be the CEO of Google. But, Sundar Pichai's vision for Chrome and Android ended up winning out and Gundotra left Google. He has since become the CEO of AliveCor, a company getting ready to release a medical-grade heart rate monitor for mobile devices.
The device is called Kardia and will be available in three types of accessories -- a smartphone case, a smartphone attachment, and an Apple Watch accessory. The smarpthone cases are only designed to work with the iPhone 5/5S and the iPhone 6/6S, but the device and app are supposedly compatible with most Android phones as well. If you have a phone that doesn't get a compatible case, there is also an EKG monitor plate that would attach to the back of your device (possibly with glue, but it's unclear.) Kardia will also be available as a swappable Apple Watch band.
The device itself is a medical grade heart rate monitor and AliveCor says the smartphone accessory has been cleared by the FDA, which is a big deal for a mobile heart rate monitor. And, in addition to being an EKG monitor, Kardia will be able to track palpitations, shortness of breath, dietary habits, sleep and exercise patterns. This is interesting because AliveCor is specifically marketing this as a health device, not a fitness tracker. This is a device that can monitor your heart, detect issues and be able to easily report and share the data with your doctor.
The attachment plate will be $99; the iPhone 5/5S cases will be $109; the iPhone 6/6S case will be $114; and the Apple Watch band will be available as soon as it clears the FDA.