First-gen BlackBerry Storm 9530 owners to get flick scrolling, improved browser
This article contains unofficial information.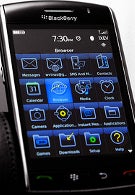 For owners of the original model of the BlackBerry Storm, seeing the improvements in the sequel might hurt. While the original word from Verizon was that Wi-Fi was not necessary on the 9530 because of the carrier's blazing fast EV-DO Rev. A network, adding it to the Storm2 along with an improved version of the SurePress typing system, has made many Verizon customers decide to swear off being first adapters. No, Big Red will not give any special credit to owners of the first Storm who want to upgrade to the new model. But there is something that RIM and Verizon is doing for owners of the 9530.
According to a Verizon rep, a firmware upgrade will make the Storm and the Storm2 practically identical when it comes to software. In other words, things like flick scrolling, tabbed browsing and threaded texting will all be enabled on the original unit. The rep confirmed that the only difference between the two handsets will be hardware related items, like a Wi-Fi radio, slightly sleeker design and plastic buttons. And let's not forget the four sensors for the SurePress typing which will allow for multi-touch typing, and the piezo technology that freezes the screen when the power is off. Throw out all those hardware improvements, add the new OS upgrade, and your BlackBerry Storm 9530 will be the same as the Storm2 9550-except where your pocketbook and wallet is concerned.
RIM BlackBerry Storm 9530 Specifications
|
Review
RIM BlackBerry Storm2 9550 Specifications
|
Preview
source: Verizon
If you have some interesting info that you'd like to share with us, feel free to
Tip Us!