FarmVille coming to the Apple iPad
1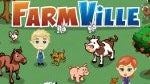 FarmVille has been incredibly popular since it launched on FaceBook. Due to that popularity, the game was turned into an application for the Apple iPhone and iPod Touch. Now, the application has been made compatible for another iOS device, the Apple iPad.
According to the company, FarmVille is played by over 60 million people worldwide. It has remained in the top 25 games list in the App Store for over 50 days now.
On the iPad, FarmVille gamers will be able to receive push notifications about their virtual crops. This was a nice feature when the game first debuted with its touch controls on the iPhone and iPod Touch.
source:
Yahoo News