Facebook updates iPad app, makes it Retina-ready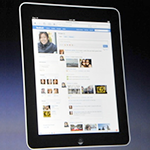 Facebook is perennially cited as one of the most popular apps on
basically every mobile platform
known to man. Despite that popularity, it took a minor eternity for Facebook to release an app
specifically for the iPad
. Thankfully, they are on top of things this time around, and an update has just rolled out that will take advantage of the gorgeous new
Retina display
of the new iPad.
In addition to the upgraded high-resolution interface, there are some other tweaks and fixes:
- You can go offline in chat
- The right profile picture appears for everyone
- Your list of friends always includes all your friends
- In sets of photos, your name is displayed correctly
- Photos of people who like Facebook Pages load correctly
- Your friend-request notification only lights up if you have a request
- You can change your language to Czech, Danish, Greek, Indonesian, Malaysian, Norwegian (Bokmal), Portuguese (Portugal) or Thai
And of course…
- If you've got a new Retina iPad, you'll see a crisp, high resolution interface
So what are you waiting for? If you're reading this on a new iPad, go update and start taking advantage of all that Retina goodness while you're hanging out with your social network.
source:
App Store link
via
TechCrunch