Facebook iPad app is finally official
2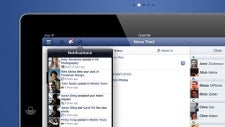 The iPad might be the best selling tablet out there but nearly a year and a half after its launch, it still lacks an official Facebook app. Now, that's fixed. Zuckerberg and company have finally released an
iPad-compatible version of their app
, changing the version number to 4.0. In the future, the company promises to extend native support to other platforms including Android as well.
On the iPad, the application supports everything you'd expect from a tablet app - swiping, pinch-to-zoom:
"Use your fingertips to scroll through your News Feed. Give the screen a swipe to page through albums. Pinch a picture to zoom in,"
Leon Dubinsky, a software engineer at Facebook, wrote.
First and most noticeable is the
News Feed
, which is expected to become the Timeline in the future. You get a two-pane layout, with your actual feed on the right. On the left hand navigation, you have quick access to games, apps, groupc, etc. A big overhaul comes to the photos, which come in three big rows of thumbnails and if you select a single photograph, then it would occupy nearly all of your screen with only a tiny strip of thumbnails previewing the rest of your pictures in the bottom.
Why was the application delayed
so much? Former Facebook developer Jeff Verkoeyen said that the app has been ready since May, but hasn't launched because of a disagreement between Apple and the social network. Facebook was initially to be a partner to iTunes Ping, the largely failed Apple music social network, but backed off the project in the last minute. Apple and Facebook seem to be at odds since then, culminating in Apple's decision to integrate Twitter rather than Facebook in iOS 5.
But back to the native application, weirdly, it looks a lot like the MyPad third-party application as TechCrunch noticed. So much, that one would thing some genius has stolen the looks, as geniuses do. Check out the uncanny similarity and make up your minds.

The Facebook app on the left, the MyPad on the right.
The app is now available in the App Store for free, but it's not the only new thing - the social network has also rolled out its Project Spartan, a set of enhancements to the network's mobile website bringing social apps and many other new features. Zynga, one of the biggest game studios focusing on Facebook apps, is expected to be among the first ones to have its games available via the mobile version of the website.