Facebook Messenger updated with World Cup-themed games, filters and effects
0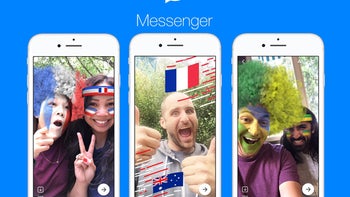 Facebook has just announced that in celebration of the 2018 FIFA World Cup, it will add new content to the
Messenger app
, on both the Android and iOS platforms. The new features will be available with the next update that should be released in the App Store and Google Play Store soon.
As the title says, Facebook Messenger will get World Cup-themed games, as well as filters they will be able to use in chats. One day before the tournament, football fans will notice an animated messages showing on their
Facebook News Feed
will invite them to share their fandom with a profile frame of their favorite team present at the World Cup.
Also, new animations will be added that can be used to celebrate your favorite team using select phrases in
News Feed
. Most of these animations will automatically enable by posting or commenting with the correct phrase or tapping on the phrase when highlighted.
Furthermore, both Facebook and
Messenger Camera
apps will allow users to use World Cup-themed effects, as well as AR effects. For example, you can take a photo with face paint or a festive flag wig to show off your fandom.
Tapping on the effect wand available in Facebook and Messenger will allow users to find augmented reality sticker of players present at the 2018 FIFA World Cup. And, finally, you will soon be able to play games with friends on Messenger.
source: Facebook