FCC documents sheds light on the Pantech P9050 "Sparrow" for AT&T
0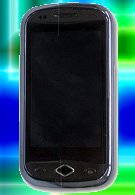 It has been a while since we've heard about any new handsets emanating from Pantech's camp, but some documents from the FCC appears to have shed some light on an upcoming handset for AT&T.
The Pantech P9050 "Sparrow" might seem like it is shaping up to be a usual tried and true Pantech device we see too often from the manufacturer. This time around, the "Sparrow" will boast some interesting figures that doesn't necessarily fit in with the usual set of handsets they're known to produce here in the US. The Pantech P9050 will feature a 3.1" WVGA (480 x 800) touchscreen display, 3-megapixel camera, video capture, GPS, microUSB port, and a microSD card slot. As for software, it's expected to offer AT&T's usual mix of apps like Video Share and Mobile Locker.
Still, there is no indication as to what platform will be powering the handset, but it'd be surprising to see Pantech move away from their usual feature phone platform. Plus, did we mention that it's going to be a sideways slider handset? Naturally, the high resolution display clearly separates this handset from previous devices, so it'll be intriguing to see this handset in the flesh.
source:
FCC
&
Phonescoop