EA Sports gives its FIFA, NBA, and Madden titles Halloween updates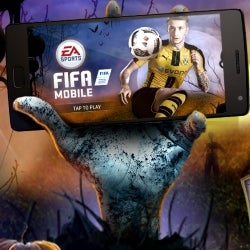 In time for Halloween, EA Sports will be spooking up its mobile sports titles, such as FIFA Mobile, NBA LIVE Mobile, and Madden Mobile with special Halloween-themed bonuses. While FIFA Mobile will get the Scream Team Halloween Program, Madden Mobile will have players morph into "super-performers" during the Halloween weekend, and NBA LIVE Mobile will get new sets that allow players to earn new characters in the game.
EA has given special attention to the Scream Team program for FIFA Mobile, which has been live since October 18. During Scream Team, a series of special Halloween Live and Flash Events will be held, where players can earn Tokens or Halloween-themed Players to use in completing Scream Team Plans.There are eight of them, and each offers the chance to unlock up to five special Elite Player items, such as treat for trick and the master elite player plan.
If you have Halloween-themed players on your team, you will see a huge improvement in their overall rating in FIFA Mobile during October 28 and November 1, which is when their stats will return back to their original rating.
All three games are available on Android, iOS, and Windows. You can learn more about them on
EA Sports' official website
.