Dyzplastic's third series of Android figurines to be available September 24th and ship two days later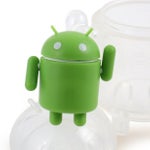 Way back in February, we
showed you some leaks of the third series of Android figurines made by Dyzplastic
. The series was supposed to launch in June but had been delayed and now will be available on Monday, September 24th from the Dead Zebra shop (shop.deadzebra.com) starting at 11am EDT. Orders will be shipped starting on 9/26.
you're getting two for the price of one
. The clear model comes at a 1/16 ratio while the red model has a 2/16 scale. You should be able to find them at the same place you pick up other collectibles, toys or comics. Asian retailers will also have the third series in stores on September 24th.
Has anyone out there purchased the first two series? Are you looking forward to the new series? Let us know by leaving your comments in the box below.
source:
Dyzplastic
via
AndroidCentral