Deal: get $100 of Google Play credit with the purchase of an HTC One M9
11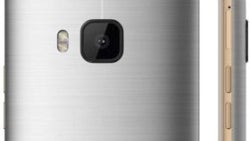 Faced with disappointing sales and
disastrous stock performance
, HTC is doing its best to move some One M9 units off the shelves. This time around, the company is offering $100 in Google Play credit with the purchase of a new HTC One M9.
Customers who will purchase a new
HTC One M9
from the company's website will get $100 of Google Play credit to use as they see fit. Note that customers who will get the handset through their carrier or from a third-party retailer will not qualify for the $100 free credit. The deal is valid from now until October 31 and is only available in the United States.
$100 may not be much, especially since you won't be getting your hands on the actual money, but some may find it a pretty sweet incentive to purchase the HTC One M9. Although most app developers have migrated towards free apps, the number of In-App Purchases has spiked over the past year or so, which means that you'll finally be able to purchase that cool new skin for your character - or about a hundred of them. Alternatively, you can use the credit to rent movies from Google Play: at $6 a piece, $100 will last you for about 16 high-definition movies.
On top of the $100 free Google Play credit, HTC will also throw in its free insurance program. Called UH-OH Protection, the insurance will allow you to replace your handset for free in case you broke it. UH-OH Protection is the
best smartphone insurance program you can get at the moment
.
What do you guys think of HTC's new promotion? Pay a visit to the comment section below and let us know how you'd spend $100 of Google Play credit.