Deal: 120W Harman Kardon wireless soundbar & subwoofer system is 67% off, save big!
1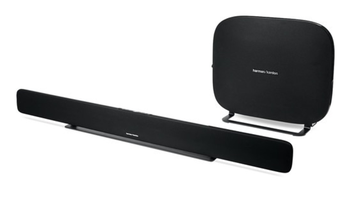 | Product | Location | Item Condition | Price |
| --- | --- | --- | --- |
| Harman Kardon Omni Bar+ 120W soundbar + subwoofer system | Newegg Flash | New | $899 -> $299 |
If you're looking for a gadget that will enhance your audio experience at home, then the latest deal from Newegg Flash might intrigue you. The retailer has slashed the price of a Harman Kardon-branded soundbar + wireless subwoofer bundle.
This system costs nearly $900 at places like B&H, but with this deal, you can currently get one for $299 which is 67% off. Keep in mind that the
deal ends in 5 days and 18 hours
from the time of writing.
The 120W soundbar supports Dolby Digital and features 4 x 60mm (2.25") woofers and 2 x 20mm (0.75") tweeters that deliver a movie theater experience. You can also wirelessly pair it with two additional H/K Omni 10+ speakers to get 5.1-channel surround sound. Obviously, the setup is intended to sit next to your TV, but thanks to the Bluetooth connectivity, you can also stream music from smartphones, tablets, and laptops. The Harman Kardon Omni Bar+ also supports 24 bit/192kHz HD audio streaming. Chromecast is built-in. Additional inputs include an aux input, HDMI, and Optical Digital Audio.
If this deal interests you, feel free to follow the above link to Newegg Flash. Delivery is free, with a 1-year warranty also being on board.