Quickly charge your phone with Anker's PowerWave fast wireless car charging mount, now 35% off at Amazon!
1
We may earn a commission if you make a purchase from the links on this page.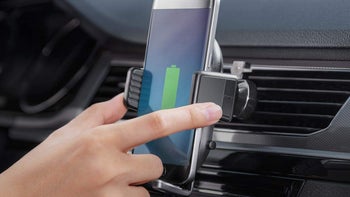 If you're looking for a way to quickly charge your phone in your car, you have to check out Amazon's latest deal. The Anker PowerWave, a combination between an air vent car mount and a Qi-enabled fast wireless charging pad, is now 35% off at the e-commerce site. To get the discount, simply enter the code
ANKER551
at checkout.
This gadget is compatible with both iPhones and Android phones. Apple's handsets can be charged up to 7.5W while high-end Android devices can get up to 10W. However, keep in mind that you will need a car charger with Quick Charge 3.0 to reach these speeds, and you'd have to buy one separately, as the PowerWave only includes a USB cord, but no adapter.
A great feature of the PowerWave is the fact that you generally won't need to take off your case in order to use it. It can transmit power even through heavy-duty cases that are as thick as 5mm, meaning that even those of you with OtterBoxes should be able to use the device without any hassle. An 18-month warranty from Anker is also on board.
If this deal interests you, feel free to follow the above link to Amazon. Remember to enter
ANKER551
at checkout to get the discount.