Day 1 recap: Google I/O
2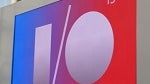 Google had things very nicely organized on the first day of the conference. Ahead of the keynote, we, along with the rest of the media were brought upstairs to our own little press lounge to get set up for things to come.
Meanwhile, the developers were lining up outside on the cool, but sunny San Francisco morning. As we sat down to write this, we were surrounded by media from Japan, China, all points of the US, Europe and the Middle East.
Since the keynote address ended up with no significant announcements of new hardware or any new software version of Android, we have the opportunity to bring you the angle of Google I/O that Google intended for the conference itself – the developers. We will connect with some everyday developers and get their perspective of what they think and what they want to build for the rest of us.
We will also share some hands-on of Google Play Music, and the new Google Maps as seen through the screen of a Chromebook Pixel. In addition to that, we will connect with some industry representatives that are here and see what they have in store for the developer community and by extension, the consumer realm.
Keep checking in with PhoneArena.com for continued coverage of Google I/O 2013!