Cortana for iOS beta is in the process of being tested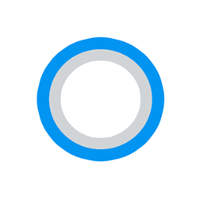 Microsoft has already
provided a version of virtual, voice-activated personal assistant Cortana for Android
users. Earlier this month, we told you that
Microsoft was looking for Windows Insiders willing to test Cortana
for iOS. That testing is now said to be underway, as testers received an email alerting them that Cortana was available to be downloaded.
The beta version of Cortana for iOS offers vocal responses to questions, sports scores, stock prices, reminders, alarms, package tracking and more. Like Siri, Cortana has more personality than Google Now, and will tell jokes and sing songs.
The beta is allegedly being disseminated using Apple's TestFlight, which is limited to 2000 testers at a time. A previous survey that Microsoft had potential beta testers fill out, seemed to indicate that the software giant is looking to use Cortana as a way to connect iPhone users with their Windows powered PCs.
Microsoft suggests that testers set a reminder using Cortana on their PC, and see how it works on the iPhone. Another suggestion made by Microsoft is to use Cortana to organize meetings to see if it helps users hold meetings on time. And testers are encouraged to talk to Cortana as they would a human personal assistant, to see how well she communicates with them.
There is no word on how long the testing will go on for, but it does take Cortana one step closer to being available for all iOS users.
source:
Warenotice
via
TechCrunch