Company that makes the $35 Aakash tablet in India now offers tablets for the U.S.
7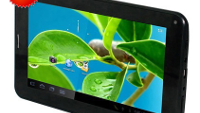 You might remember that a couple of years ago,
we told you about a $35 Android powered tablet in India called the Aakash
. Back then, the slate cost $50 to make and was sold for $60. But a subsidy from the Indian government allowed students to purchase the tablet for just $35. Manufactured by a company called Datawind, the tablet is equipped with a 366 MHz ARM-based processor, 256 MB RAM, and a microSD slot. Obviously not your high-end slate.
Datawind is bringing three similar Ubisoft models to the U.S., priced as low as $38. The low-end model is called the UbiSlate 7Ci and features a 7 inch screen. A single-core 1GHz ARM based processor is under the hood with 512MB of RAM and 4GB of native storage on board. A VGA camera is on the front of the slate and Android 4.0 is installed. This tablet offers Wi-Fi connectivity only and is the commercial version of the Aakash 2.
The next model is the UbiSoft 7C+. Also sporting a 7 inch panel, this device offers the exact same specs as the 7Ci except that besides Wi-Fi, it gives you EDGE conectivity and supports voice calling. This slate is $99.99 with a year's worth of EDGE, or just $79.99 without the cellular service. The UbiSlate 3G7 also allows you to make calls. As you can tell by the name, this tablet offers 3G connectivity (via HSPA connectivity). It also includes GPS service and a bumped up resolution of 1024 x 600. Other upgrades include the dual-core 1.2GHz CPU and the additional 2MP camera on back. The price of this device is $129.99 with a year of browsing for $20 more.
These devices are perfect for the first time tablet or phablet buyer, or for a non techie that you need to buy a gift for. If you're interested in ordering any of these models, click on the sourcelink.
source:
UbiSlate
via
GigaOM