$35 Android tablet available for students in India
52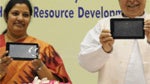 While
spoiled brats around the world cried on Twitter last week because they didn't get an iPad for Christmas
, there many people who can't even fathom the cost of an iPad. That is why a joint venture between London-based DataWind and the Indian Institute of Technology Rajasthan was created to create the Aakash.
The Aakash is the world's cheapest touch-screen tablet. It only costs $50 to manufacture and usually retails for $60. In order to make technology more accessible to the poor, the Indian government is now subsidizing the Android-based device to students in the nation. The final cost – just $35.
While it has been reported that the device has poor sound quality, occasional freezing, and no access to the Android Market, for only $35 students do get a 7" tablet with 366 MHz ARM-based processor, 256 MB RAM, Wi-Fi, Micro-SD slot, and access to GetJar for apps. Not a bad deal.
source:
Daily Mobile