Cellphones in Cleveland can be considered a "criminal tool used for inciting a riot"
4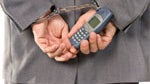 Cleveland, Ohio, a city founded in 1796 that sits on the southern shore of Lake Erie, the 45th largest city in America, home of the Rock and Roll Hall of Fame, and where you can be jailed for up to six months and fined $1,000 for using a cellphone or a computer to organize a flash mob that turns unruly.
City Council voted on Monday to add computers and cellphones to a list of items that can be classified as 'criminal tools' when used improperly. The Council previously attempted to ban social media outlets such as Facebook and Twitter when used to rally a mob or create a disturbance, but were vetoed by Mayor Frank Jackson after receiving criticism from civil rights groups.
James Hardiman, legal director for the American Civil Liberties Union of Ohio, argues that the new legislation opens the door for illegal search and seizure of cellphones and computers and can target participants of a get-together that unexpectedly turns rowdy. He said of the legislation, "
Apparently the city of Cleveland doesn't have enough to do,
" adding that the city already has measures in place against riots.
Councilman Zack Reed said he doesn't believe the law is unconstitutional and says he was simply trying to make Cleveland safer.
source:
Cleveland.com
via
NewsMax
Recommended Stories