Canadian PM Justin Trudeau becomes first politician to host Live Story on Snapchat
6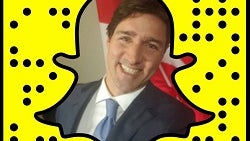 Snapchat has had its fair share of celebrities and other well-known individuals using the platform to host live Q&A sessions. On January 12th, however, Canadian Prime Minister Justin Trudeau became the first politician to use the service in such a manner.
Using Snapchat's Live Story, a curated stream of user-submitted Snaps from various locations and events, the Prime Minister answered several questions from college students across the country. Students were able to ask various questions, ranging from what items he would bring if he was stuck on a deserted island to what his plans were to reduce discrimination and violence against women in the country. Prime Minister Trudeau would take and answer questions in both French and English, and answered them all appropriately, including the lighthearted ones.
Given Prime Minister Trudeau's recent popularity, and the fact that he was the first politician to create a Snapchat account, it's no surprise that he would be the first politician to use Snapchat's Live Stories to host a Q&A session. If you're interested in checking it out, the Live Story will be available until 7PM ET on January 13th for users in Canada, the United States, Australia, New Zealand, Ireland, and the United Kingdom.
Whether other prominent politicians like Donald Trump follow the Prime Minister's lead and host similar events, only time will tell. Snapchat was utilized by various politicians during the 2016 US Elections, but never in the manner Justin Trudeau used it.
source: Snapchat via
Mobile Syrup