Bump feature is now supported on Android's PayPal app
0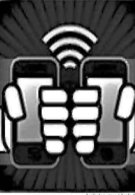 Apple iPhone owners
aren't the only ones who can simply bump with another device to quickly transfer cash through PayPal.
Android users are now enabled
to start using the bump feature thanks to the latest version of the app that's available to download right now. So if you want to look good when it comes down to sending money to someone on PayPal, you can basically "bump", or a slight nudge that some prefer, your handset with another to instantly send money. Additionally, the update also offers the "split the check" feature which will take the hassle of gathering money from different parties when you're out having a nice dinner. It'll essentially lessen the burden on you when your friends ask to borrow money from you – so it'll calculate the total bill and remind you to collect the specific amount from each person. All in all, we'd imagine these features will come in handy for those individuals who readily depend on PayPal a lot.
source:
PayPal Blog