Blackboard mobile campus app arrives for Android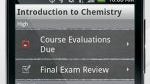 If you're a current or recent
college
student, you're probably familiar with Blackboard. It is an online resource that brings together class discussions, grade postings, class materials, and schedules all in one place. Blackboard has announced the release of their Blackboard Mobile Central app for
Android
devices, expanding their lineup from only iOS and BlackBerry.
The app was debuted at Northwestern University, and brings together "campus maps and course catalogs, event calendars, campus news, sports schedules, and even a campus directory." Blackboard Mobile Central also allows you to call or email people in the directory directly from the app. The app has been available to iOS and BlackBerry users, but with so many users switching to
Android
, it's only right that they adapted a custom Android version.
Harlan Wallach of Northwestern said that "The ability for us to reach students through smartphones is key to the overall experience and efficiency of our university." Wallach has a point, as so many of today's college students arrive with a
smartphone
, whether for "efficiency" or just social networking. Perhaps the smartphone has become the new standard-issue college accessory, along with a laptop and a mini-fridge.
Blackboard Mobile Central is available now for free. If you don't have an iOS, BlackBerry, or Android device, there is also a
mobile web
version of Blackboard available.
source:
Blackboard
via
PR Newswire
Recommended Stories