BlackBerry Style 9670 commercial informs you to commit to the flip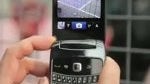 Are you still not impressed with the alternative form factor that the BlackBerry Style 9670 has to offer? Well then, you just might want to watch RIM's latest short commercial featuring the intriguing looking BlackBerry smartphone which might potentially change your attitude towards its flip nature.
Not only does the commercial show how the handset is intertwined into the daily lives of normal everyday people, but it even manages to show how they're committed to the flip nature of the device. In fact, one owner even goes on to show how he manages to clip on the BlackBerry Style 9670 to his front shirt pocket thanks to its flip motion.
So if you want a handset that's going to stick tightly to your front shirt pocket and not slip, you may want to check out how it handles for yourself – plus not to mention all the other neat features it obviously has to offer.
via
CrackBerry
Recommended Stories