Best tablet of MWC 2014: PhoneArena awards
9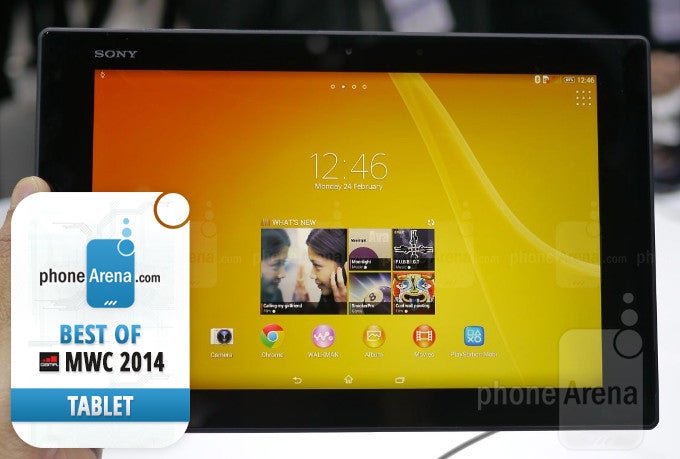 Xperia Z2 Tablet
, but itself. After releasing the world's
thinnest, lightest 10" slate
last year with the
Tablet Z
, at the MWC 2014 expo it surprised us once again with another slim boomerang, that takes those same superlatives away from its predecessor. Moreover, Sony managed to still keep the tablet waterproof, and with IP58 certification at that, meaning you can watch movies in the bathtub with no worries again.
Clocking in at the breathtaking just 0.25" (6.4mm) girth, the Xperia Z2 Tablet is also the lightest of them 10" slates, weighing only 15 ounces (426g) for the Wi-Fi model, and 15.5 ounces (439g) for LTE/3G model. For comparison, the Tablet Z is 6.9mm thin, and weighs 17.46 oz (495 g), while the venerable
iPad Air
is 7.5 mm, and with 16.86 oz (478 g) of weight, respectively, with a tad smaller display.
Sony's new fashion model is powered by the fast
2.3
GHz quad-core
Snapdragon 801
, which is a vast improvement over the measly Snapdragon S4 Pro, that last year's Tablet Z shipped with. The Xperia Z2 Tablet also comes with 2 GB of RAM, and 16 GB of internal memory, expandable via a microSD slot. This processor will be just a step below Qualcomm's new
Snapdragon 805
, which won't be in devices before the summer, which will ensure the Z2 Tablet relevancy in the silicon department, at least until next year's edition.
With all those combined, and four S-Force Surround Sound speakers added on the world's thinnest tablet, it was an easy pick for us to pronounce the new Xperia slate "Best Tablet of MWC 2014", and we can't wait to put it through the review paces.