Slates on the catwalk: world's thinnest tablets roundup - Summer edition
48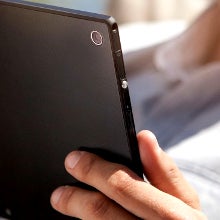 With
Samsung outing its Tab S slates
that carry a high-res Super AMOLED display for the first time, we are forced to rewrite our ranking of the world's thinnest tablets, as the new slates both clock in at just 0.26" (6.6mm) girth. A slender tablet is certainly better than a thick one, said Captain Obvious, for looks and ergonomics sake alone, that's why we are rounding up the most anorexic slates out there, with the cutoff being held at 0.31" (8mm).
Apple managed to trim the waistline of its metal-clad
iPad mini
line, and also slimmed down the
iPad Air
, which can't be an easy thing to do, considering we have an aluminum shell. That metal chassis precludes it from occupying the top spots, though, which now seem forever reserved for slates made by Sony and Samsung. Still. the iPad mini comes to show that the thinnest slates don't only come in plastic form, and we have a few metallic catwalk stars in the realm of Android tablets, too.
Some of those low-carb proponents are really svelte-looking, too, and the record holder is even waterproof, so check out our world's thinnest tablets roundup below, and marvel at their engineering prowess, paying a special attention to what Sony was able to muster with its Z tablet line.