Best new Android and iPhone games (March 2nd - 9th)
4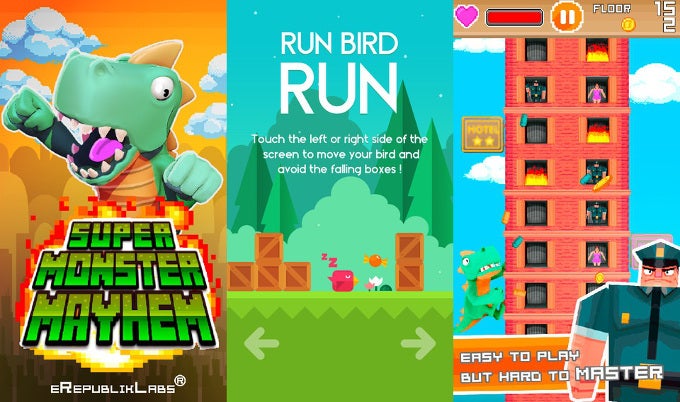 Let's start off the week with some fun! In our weekly round up of the best new Android and iPhone games we introduce you to everything new and worthy with no limits to the genre, platform, or price. We can't guarantee that you'd love the genre of the game we've picked, but if you do, chances are you'd spend hours playing one of these games.
After a super busy week at Mobile World Congress 2015, followed by all the buzz of GDC 2015, we're back with a recap of the best new games for Android and iPhone. While we don't have any high-profile new releases, indie developers have treated us with quite a few great games that you'll enjoy playing.
One name in particular stands out among the rest: Taichi Panda, the most popular iOS game in China, makes its debut to English speakers, and it's a visually stunning action-filled dungeon crawler with a kung-fu panda.
It's hardly the only note-worthy new Android and iPhone app for the past week, so go ahead and check out all the rest right below.
Taichi Panda
| | |
| --- | --- |
| Developer: Snail Games | Download: iOS |
| Genre: Dungeon crawler | Price: Free |
Taichi Panda is an action-filled dungeon crawler where you take over the role of a kung-fu panda. You get to grow and develop this cute character in an attempt to restore the cosmic balance. The game follows the free to play model.
Overkill 3

A third-person shooter set in the grim and dark future, Overkill 3 is a visually excellent game offering gun personalization and varied gameplay spiced up with boss battles and short cinematic cuts.



SBK14

Right after the Superbike season is over we get SBK14. Why you ask? We don't have an answer as to why this game arrives so late, but what we can say is that an in-app purchase via the current game guarantees you free access to the upcoming SBK15. And SBK 14 is pretty much one of the best motorcycle racing sim games out there.



Super Monster Mayhem: Rampage
A fun casual game where you swipe and tap to destroy a city as you take on the role of a monster on the run.
Run Bird Run
| | |
| --- | --- |
| Developer: Ketchapp | Download: iOS |
| Genre: Casual | Price: Free |
Another simple and free to play casual game, Run Bird Run has you surviving in a Tetris-like world of falling crates and candy. Avoid the crates and collect the candy.
Rad Boarding
| | |
| --- | --- |
| Developer: Noodlecake | Download: iOS |
| Genre: Endless | Price: Free |
RAD Boarding is an apocalyptic snowboarding game jam-packed with 90's flair, where you get to perform tricks and fight boss battles as you race against the end of the world.
Beatdefense
| | |
| --- | --- |
| Developer: 16 Escalones | Download: iOS |
| Genre: Rhythmic/Music-based | Price: Free |
As missiles are raining on the city, you have to get in the rhythm of the music to intercept the rockets and save the city in this music-based game. It features retro graphics and catchy tunes.
Vietnam...'65
| | |
| --- | --- |
| Developer: Slitherine | Download: iOS |
| Genre: Strategy | Price: $9.99 |
This strategy game is a more complex one, that will require more time for you to ponder decisions, but it's also a rewarding experience as you take on the task to wage a counter-insurgency war to secure the Ia Drang valley, on the border with Cambodia.