Best LTE smartphones under $200 (off contract)
11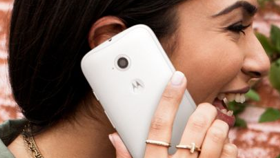 Last year, we presented you a list of the
best LTE smartphones
that didn't cost more than $300 off contract. Since then, things have rapidly evolved, and we now have plenty of attractive (and mostly new) LTE handsets that cost even less: not more than $200. Thus, it's time for us to make a new list.
Slowly but surely, LTE is becoming a standard feature even on affordable handsets. And while many regions around the world don't have LTE coverage yet, most of them will - in the coming years. By then, we assume (or hope) that ~$100 LTE smartphones will be as common as today's 3G handsets. But let's see what LTE smartphones we can get this year for $199 or less, shall we?
Asus ZenFone 2 (5-inch version)
Asus made a splash last month at CES 2015, when it revealed the impressive 5.5-inch
ZenFone 2
- the world's first smartphone to feature 4 GB of RAM. The company said that prices for the ZenFone 2 would start at $199 - however, it looks like the handset's version that will cost just $199 is
a 5-inch 720p one
with only 2 GB of RAM. But this 5-inch ZenFone 2 will offer LTE anyway, plus Android 5.0 Lollipop, and an Intel Atom processor. All Asus ZenFone 2 models should be launched next month.
Blu Life One and Life One XL
Blu's
Life One
and
Life One XL
are two LTE handsets that will be available in the US starting March for $179 and $199, respectively. Besides LTE, they both feature quad-core 1.2 GHz Snapdragon 410 processors, 5 MP front-facing cameras, 13 MP rear cameras, 1 GB of RAM, and 8 GB of expandable storage space. While the Blu Life One XL sports a 5.5-inch display, the Life One offers a 5-inch screen (though both have the same 720 x 1280 pixels resolution). According to Blu, the Life One and Life One XL will be updated to Android 5.0 Lollipop sometime this year (they will run Android KitKat at launch). Note that Blu is already selling a smartphone called Life One, but that's a model from 2014: it doesn't feature LTE, and runs Android Jelly Bean.
Lenovo A6000
The
A6000
was announced by Lenovo at CES 2015 in January, and is already available to buy in India (it seems to be selling very well, since it's currently out of stock). The A6000 costs around $120, being one of the cheapest LTE-enabled Android smartphones ever. Surprisingly for this price point, the Lenovo A6000 appears to be a pretty nice mid-range device. Its features include a 5-inch 720p display, 8 MP rear camera, 64-bit Snapdragon 410 processor, 1 GB of RAM, 8 GB of expandable internal memory, and a 2300 mAh battery. After releasing it in India, Lenovo will probably launch the A6000 in other markets.
Motorola Moto E (2015)
The second-generation
Moto E
is the newest handset on our list. It was announced just a couple of days ago, when Motorola started selling it in the US and other regions. The LTE version of the Moto E costs $149, runs Android 5.0 Lollipop, and is powered by a quad-core Snapdragon 410 processor. The smartphone also offers a 5 MP rear camera, VGA front-facing camera, 1 GB of RAM, 8 GB of internal memory, and microSD card support. It sports a 4.5-inch display with 540 x 960 pixels, and includes a 2390 mAh battery. Motorola allows users to customize the look of the new Moto E with colorful grip shells and bands.
Motorola Moto G LTE
This is
the LTE version
of Motorola's first generation Moto G, and can currently be purchased for $199. Sporting a 4.5-inch 720p display, the smartphone is powered by a Snapdragon 400 processor, further featuring a 5 MP rear camera, 1.3 front-facing camera, and the usual combination of 1 GB of RAM and 8 GB of expandable internal memory. The second generation Moto G
has an LTE variant
, too, but this one's available only in Brazil, where it costs more than $300.
Nokia Lumia 635
Also included in our old "Best LTE smartphones under $300" list, the
Nokia Lumia 635
remains a great option if you're in need of an LTE handset that doesn't cost more than $100 off contract. Currently running Windows Phone 8.1, the Lumia 635 will be updated to Windows 10 later this year, though it may not get all the features of the new OS.
Sony Xperia E4g
Announced earlier this week, the
Xperia E4g
is the smaller brother of Sony's Xperia E4, and is notable for having LTE connectivity - a feature that the E4 is lacking. The E4g offers a 4.7-inch qHD (560 x 960 pixels) display, a quad-core, 64-bit MediaTek MT6732 processor, 1 GB of RAM, 8 GB of expandable storage space, 2 MP front-facing camera, and a 5 MP rear camera. The handset runs Android KitKat, but will be updated to Android Lollipop. The Xperia E4g will cost about $145 when it hits shelves starting April (though it looks like it won't be officially released in the US).