Best Buy's site shows off a handful of accessories for the Motorola DROID Bionic & HTC Merge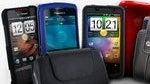 Whenever a major partner is flaunting accessories for big time devices on their web site, it generally hints to a sooner than expected launch of a particular handset.
For a while there, everyone was questioning whether or not we would ever see the light of day with the HTC Merge, but more recently, it appeared once again in
Verizon's system
. However, taking a look at Best Buy's web site, one can visibly see that the
HTC Merge is being shown off in pictures alongside some accessories
made specifically for it. Furthermore, we also find Big Red's upcoming
Motorola DROID BIONIC in yet another image being surrounded by cases
.
However, it's worth noting that
no information regarding the actual handsets
have been posted online, but it makes you really think long and hard about their upcoming availability. Since they're plastered on Best Buy's web site, it can mean that a release might not be too far off in the distance at this point.
source:
Best Buy
via
Engadget