HTC Merge appears in Verizon's system
5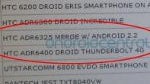 You are not alone if you are beginning to wonder if the HTC Merge will ever become a reality, but a screenshot of Verizon's inventory system shows the Android-powered smartphone is still a possibility.
The HTC Merge has produced more questions than anybody seems to have answers to over the last couple of months. We have all seen the specs, we have all seen photos and videos, but what we haven't seen is a release date or any indication that this phone is actually real.
The posted image is of a screenshot from Verizon's inventory system that clearly shows the HTC Merge with its model number ADR6325. Now there is a chance that this phone is a placeholder or that this could have been there for a while now. You can clearly see that there is no MSRP or VZ pricing listed. Underneath the HTC Merge's listing is the upcoming HTC Thunderbolt which also has no VZ pricing, but does show an MSRP price of $615.
So is this phone ever going to go mainstream? Tell us what you think in the comments below.
source:
Android Central