Best Buy starts sales of the Google Nexus S on Dec 16, 8:00 am EST
0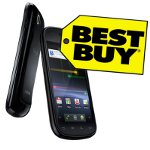 The day of the launch of the
Google Nexus S
is just hours from now and Best Buy, the authorized dealer for the phone, has released a statement with all the details about the launch. If you have been waiting for this phone for a while you might want to know that online sales start at
8:00 am EST
along with the opening of the East Coast stores.
Good news is that even if you haven't made up your mind about this phone, you could still go and check out the
Gingerbread

experience
on a demo phone. The phone carries some of the Nexus One's freelance ideas and will not be locked. Price comes at
$529
for no ties and
$199
if you decide to get the Nexus S with a two-year T-Mobile contract.
The Nexus S will be the first phone with Android's newest
2.3
Gingerbread version and even if its hardware is nothing revolutionary with a 1GHz Cortex A8 Hummingbird processor, there is still a lot of excitement about the changes happening to Android.
Check out an excerpt of the
press release
below with all the details:
Timing: Online sales of Nexus S begin at 8 a.m. Eastern time to coincide with the opening of Best Buy stores on the East Coast. As a reminder, all Best Buy stores have adjusted their holiday hours to open at 8 a.m.
Availability: Nexus S is available in all Best Buy and Best Buy Mobile specialty stores. Exact inventory will vary by store. Nexus S will be sold out on a first-come, first-serve basis with a limit of 2 per phones customer.
Demo phones: All Best Buy and Best Buy Mobile stores will have a Nexus S demo phone on-hand so customers can see and experience the phone.
Pricing: The Nexus S is an unlocked phone and can be purchased without contract for $529. The Nexus S can also be purchased for $199 with a TMobile two-year service agreement and qualifying voice and data plan. Nexus S can also be purchased for $249.99 for add-a-line activations.
As with all smart phones it sells, Best Buy Mobile will have a full assortment of accessories for Nexus S and offers an array of services aimed at improving the mobile phone buying experience, including:
Upgrade Checker:A quick and easy service that gives customers the ability to see when they are eligible for their next phone upgrade. When the upgrade time is nearing, customers receive a complimentary reminder call, e-mail or text message.
Walk Out Working™: Free in-store smart phone setup by a Best Buy Mobile Phone Specialist who will sync personal email accounts, set up Bluetooth headsets, transfer contacts and activate other services to allow the customer to leave the store with a fully functional new smart phone.
source:
Best Buy
via
TmoNews