Best Buy is selling the Honeycomb filled Acer ICONIA Tab A500 for $450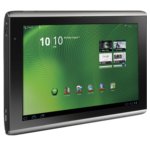 Up until now, you really have to dish out a boatload of money to experience either of the two currently available Android 3.0 Honeycomb tablets in the US – which so happen to be the Motorola XOOM and T-Mobile G-Slate. Of course, you can save yourself some money if happen to decide on picking up a non-Honeycomb powered device, but then again, the experience is pretty much like most smartphones out there.
Enter the
Acer ICONIA Tab A500
, priced at a reasonable
$450 through Best Buy
, which so happens to come to market finally breaking into that beloved sub-$500 price point. Not only do consumers have the opportunity to experience Honeycomb without having to pay a high premium for it, but the Acer ICONIA Tab A500 packs along some modern hardware to glorify its overall capacity. Specifically, this 10.1" Android 3.0 Honeycomb tablet with WXGA resolution sports the all too common dual-core NVIDIA Tegra 2 processor, 1GB of DDR2 RAM, 16GB of internal storage, Bluetooth
2.1
, Wi-Fi, and a 2-megapixel camera.
Obviously, the best thing about this one is that it's entering the market with a Wi-Fi only model first; which contributes to its lower price point. So if the previous two Honeycomb tablets were too much for you taste, head on over to Best Buy's web site and place your order for this one.
source:
Best Buy
via
Mobileburn