Behind the scenes of the Apple 1.24.14 video shot with 100 iPhones
6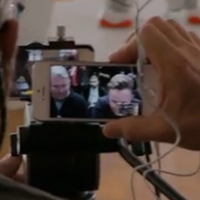 Earlier Monday, we told you about
Apple's 1.24.14 video, which was created to celebrate 30 years of the Mac
. Using FaceTime to speak to the crews on remote in other countries, director Jake Scott took charge of the video from a central location. The action covered 36 hours on January 24th starting at Sunrise in Melbourne, Australia, and wrapping things up with the evening in Los Angeles. That happens to be where Scott was while handling his directing chores.
And yes, not only was Apple celebrating 30 years of the Mac, it was celebrating an anniversary of sorts. Scott happens to be the son of Ridley Scott, who was the director of the original 1984 Apple Mac spot that ran during that year's Super Bowl. That commercial is still considered the best Super Bowl ad of all time.
Want to see how complex filming the video was? You can click on the video below to find out. By the way, we should point out that it was Apple's SeniorVP of worldwide marketing, Phil Schiller, who tweeted the link to the video.
source:
@pschiller
via
SlashGear