Award-winning indie game Badland is available for iPhone and iPad
2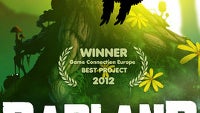 Badland launched a couple of days ago for iPhone and iPad, but it somehow got under our radar. It is definitely worth a look, though. The thrilling atmosphere of the game and the surprising camera twists make it stand out among other sidescrolling platformer action games. If we had to compare it to an existing title that would probably be Jetpack Joyride.
In Badland you control a spongy black thing, an inhabitant of a weird mechanical forest that is part fairy tale, part horror movie. You move through that enchanted third world exploring just what went wrong.
Along the way are all sorts of hurdles that you'd discover across 40 levels. It also supports multiplayer. Badland is an indie game with no major publisher behind and it's won various awards already. The $3.99 price is a bit steep, but at least you have no in-app purchases so you can fully enjoy the game once you pay for it.
via
The Verge