Apple's Jony Ive appears on a kid show, talks design shop (video)
6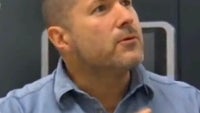 If you haven't seen Sir Jonathan Ive, Apple's acclaimed chief designer, in working environment, his visit to the British Blue Peter children show the other day now gives you the chance.
Blue Peter is a do-it-yourself show for young tinkerers, which has remained basically unchanged since its introduction in 1959. Apparently Jony Ive has been an avid watcher, as he seemed to even remember some projects shown there like cut detergent bottle turned into a secure paint brush holder, and he was seemingly moved when the host awarded him the show's badge.
Moreover, the whole episode reveals a little bit of his thought process and Apple's way of designing - he was tasked to think of a contraption that will serve as a school bag, lunchbox and pencil holder all in one, judging inputs from kids following the show. Instead of suggesting to just strap an
iPad mini
to your packed lunch, he first dismissed using the world "lunchbox", as Apple is very careful with the way they name what they want to achieve, as each term chosen traces a different path. We wouldn't want the word "box" in there, he said, as this makes you think of something square.
In the end he gave the host of Blue Peter a huge badge in its turn, manufactured by one of those big CNC milling machines that the design team uses to cut out the test forms than become iPads, Macs and iPhones in the end. Have a gander at the whole Blue Peter appearance in the video below.