Apple iPhone and Apple iPad source of 82% of mobile Black Friday sales
87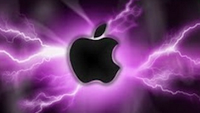 Millions of mobile transactions from 800 retail establishments in the U.S. ran through IBM's computers on Black Friday, and the data was analyzed. What the data revealed was that 82% of mobile shopping on Black Friday came from an Apple iPhone or Apple iPad. That is 4.5 times the amount of mobile Black Friday shopping that came from an Android flavored device. Looking at all online shopping on Black Friday, 17.3% came from an iOS powered mobile device while 3.75% came from a device running on the Android OS.
The use of mobile devices to shop on Black Friday was up 9% over last year and now accounts for 37% of shopping traffic and 21% of online sales. Perhaps it is the bigger screen, but more sales were conducted on tablets (13.2% of the total) than smartphones (7.8% of sales). According to IBM, the average order placed on an iOS device rang up as $131.34, 18% more than the average Android sale of $111.35.
Apple's iOS devices also accounted for 26% of all mobile traffic on Black Friday compared to the 11% that came from Android. Windows Phone and BlackBerry did not generate enough traffic for IBM to provide figures for the two platforms.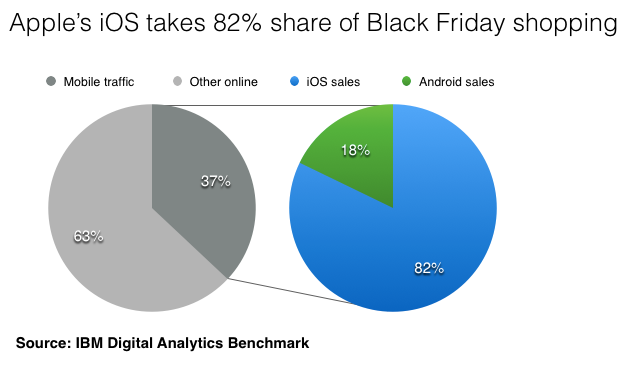 82% of Black Friday mobile sales came from an iOS device
source:
IBM
via
AppleInsider
Recommended Stories