Apple iPhone XS, XS Max, XR size comparison vs iPhone 8, 8 Plus, Galaxy S9, S9+, Note 9, OnePlus 6
19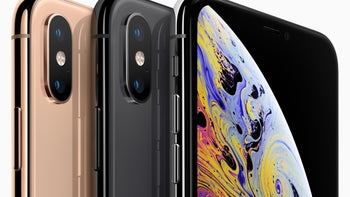 The wait is over and Apple's latest batch of iPhones is finally here. Possibly one of the bigger refreshes of the iPhone lineup in the past few years, the 2018 iPhone family inherits its sleek looks from the path-making iPhone X and spans it over to three different size variations.
iPhone XS - the smallest one
The smallest new iPhone, the 5.8-inch iPhone XS, stands and is pretty much similar to the iPhone X in terms of size. That's fortunate, as the already great screen-to-body ratio of the device means it's one of the most efficient 5.8-inch phones you will be able to get in autumn 2018. But how does the smallest new iPhone stack up against its rivals? Our nifty size comparison tool is here to provide you with a visual representation of what the device looks like next to its rivals.
iPhone XR - middle of the road
Second in size comes the more affordable 6.1-inch iPhone XR, which boasts an LCD display and a lonely single camera at the back. Of course, these cut corners have allowed Apple to slap a much more affordable price tag on that device, which could very well be a recipe for success with those consumers not willing to break the bank on a $999+ iPhone but are still sort of locked in the ecosystem. But how big is the seemingly-enticeable iPhone XR, exactly?
iPhone XS Max - the biggest one yet
And what about the largest new puppy, the iPhone XS Max? The iPhone with the largest display so far certainly does look imposing, but it turns out it's not such an excessive gadget at all. Actually, it isn't much larger than the Plus iPhone models from the past few years - the iPhone 6 Plus, 6s Plus, 7 Plus, and 8 Plus. This would certainly make the phone a much more entice-able buy.

This means you get much more display real estate in the same general footprint, which is a win-win situation in any case.