Apple iPhone 6 vs Sony Xperia Z3: in-depth specs comparison
39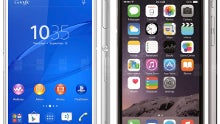 Apple unleashed the
iPhone 6
in a fairly traditional annual upgrade cycle event form, but the handset's specs are anything but traditional, at least for Apple. The iPhone 6 represents the largest incremental increase in an iPhone screen diagonal in the franchise's history, and with a 4.7" panel comes a brand new design, as well as some unique features.
How does it stack up against the Android competition, and namely against Sony's
Xperia Z3
, with which we had a close encounter at the IFA expo just a few days ago? Let's see...
Design
The iPhone 6 still remains a fairly compact affair, despite the screen size growth. Since Sony's Xperia line of late isn't known for slim bezels, the Xperia Z3 is quite larger than the iPhone 6. Granted, it also sports a bigger, 5.2" panel, yet it will be noticeably less comfortable to hold and operate than Apple's finest. When it comes to thickness, however, Sony has done a remarkable job, slimming the chassis down to 7.3mm, only a tad thicker than the 7mm iPhone 6, and yet sporting premium chassis material in its turn. What is more, Sony's phone can be submerged in five feet of water without any problems, while Apple's creation eschews the water-resistant certification altogether. Moreover, Sony offers two quality stereo speakers at the front - something that the iPhone 6 doesn't have.
Displays
Sony upgraded the Xperia Z3's 1080p screen where it counts, namely in the brightness department, equipping it with a high brightness mode that brings about 600 nits of peak luminance, which is as good or better than what the iPhone 6 display is able to muster. Apple's phone panels are famous for their accurate color representation, while Sony boosts the saturation and contrast while watching media, so which screen would be preferable depends on your personal point of view, as both offer more than enough pixel density to go around. The iPhone 6's resolution has grown up to 750x1334 pixels, which still yields 326ppi, on account of the larger diagonal.

Interface
Sony doesn't skin the stock Android too much, and doesn't offer as many features as the overlays of Samsung, LG or HTC, but it's still a well-rounded UI with immediately recognizable branding.
The iPhone 6 sports the newest iOS 8, which brings about a flat look, and numerous functionality enhancements in the notifications and status bar departments.
Processors and memory
Outfitted with a spanking A8 processor, the iPhone 6 offers 64-bit computing, a 20nm production technology, and specialized coprocessors. While its yet-unknown core clock and count will probably trail behind the 2.5 GHz quad-core Snapdragon 801 in the Xperia Z3, it certainly won't fall in cross-platform benchmarks against the Z3, and the typical iPhone/iOS synergy would yield splendid interface behaviour, too. Apple also touted a 50% improvement in the graphics department, so 3D games will run without a hitch on both handsets. As for the RAM amount, we are likely dealing with another 1 GB edition here, judging from the Geekbench results from the iPhone 6, while the Xperia Z3 outpaces the iPhoe with thrice that amount for endless multitasking. The Z3 is offered with 16 GB of storage, but has a microSD slot for expansion, while the iPhone 6 is available in 16/64/128 GB configurations, though the last one will cost you a pretty penny.

Cameras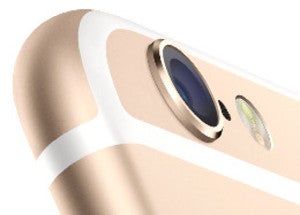 Apple kept the 8 MP resolution for the iPhone 6, but outfitted it with a brand new sensor that sports Pixel Focus technology for quicker locking and continuous autofocus. The video capture has been greatly improved, too, with 1080p going up to 60fps, and HD slow-mo at 240fps. The Z3 shooter's 20 MP resolution might sound impressive, but actually Sony has failed to occupy the first slots in our most recent camera comparison with the Z2, which sports the same sensor. The Xperia Z3 flaunts a new G Lens kit, though, and new algorithms, plus it goes all the way up to 12 800 ISO, if needed, so only a tit-for-tat comparison we'll say who is boss. The Xperia Z3 has the 4K video capture advantage, though, plus you can shoot with it underwater out of the box.
If we do a spec-for-spec comparison of the Xperia Z3 with the iPhone 6, Apple's handset would certainly lose the direct cage match. The Z3 sports a larger, brighter display with higher resolution, a higher CPU clock count and more RAM memory, plus it has a bigger camera resolution, and more capacious battery.
Apple's incline has never been raw power, though, but rather the things you do with your handset, so it's built the iPhone 6 around its new paradigms, brought along by Touch ID sensor, and the new Apple Pay mobile payment services. Granted, the Xperia Z3 is waterproof, but the iPhone 6 is more compact, while we'd wager to bet that the iPhone 6 could surpass the Z3 in camera quality, despite its lower sensor resolution. Thus, your choice will boil down to a larger screen and waterproof chassis, or a more compact device that doesn't give way to the Z3 in any way that counts, and will likely keep a value longer.