Apple iPhone 5s twice as popular as iPhone 5c
77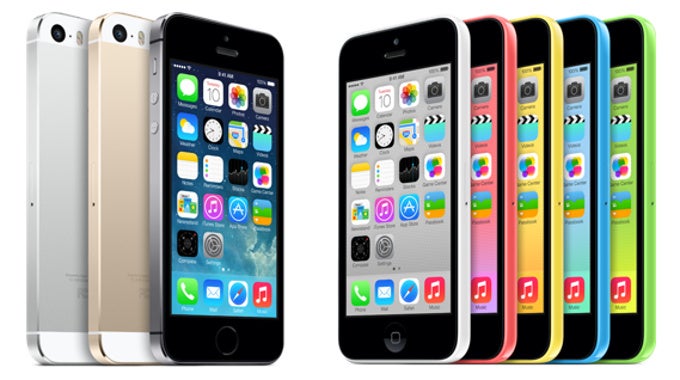 The Apple iPhone 5s is outselling the colorful and plastic iPhone 5c at a ratio of two to one, proving to be the main driver of iPhone sales in the United States, according to analysis by Consumer Intelligence Research Partners (CIRP).
CIRP's analysis focused on iPhone sales in September 2013, the first month when iPhones were available, and compares those numbers to October 2012, and there are a few interesting conclusions.
First, the iPhone 5s is the driving force of iPhone sales accounting for an overwhelming 64% of all sales. Interestingly, the much hyped iPhone 5c, a plastic device coming in a range of colors, is selling just a bit better than last year's $99 iPhone. The iPhone 5c accounts for 27% of all iPhone sales in September. Lastly, the iPhone 4s, currently sold for free when signing a two-year contract, captures a 9% share. That's exactly as much as last year's free on contract iPhone 4 got.
"The relative performance of all three iPhones is generally in line with the performance of the similarly priced phones following the launch of the iPhone 5 in 2012,"
CIRP co-founder Josh Lowitz said.
"Over time, the lower-priced phones have tended to gain share versus the flagship phone, after the initial rush of dedicated upgraders to the newest device. So we expect that the 5c will account for a higher percent of total U.S. iPhone sales in the coming months, but the design changes may alter that dynamic. The iPhone 5c may appeal to different buyers than the legacy 4S did last year, or the new 5s will this year."

Overall, nothing unexpected, but surprises are possible this year given how different the iPhone 5c is. Will they happen? Only time will tell.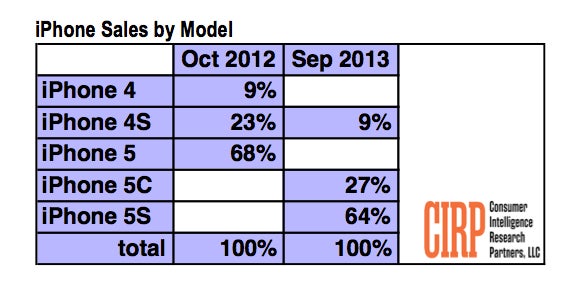 source:
AllThingsD