Apple, Google, Amazon and others are interested in buying Toshiba's memory chip business
30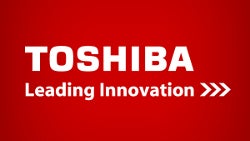 A group of top tech companies like Apple, Google and Amazon are interested in purchasing Toshiba's memory chip business. The company that succeeds in buying the division will be obtaining the second largest provider of memory chips for smartphones and computers behind Samsung. The business accounted for 25% of Toshiba's $50.9 billion USD in revenue during its last fiscal year. The company is still bleeding red ink, and could report a $9 billion loss this year thanks to issues that have nothing to do with the memory chip business. But selling it to the highest bidder could bring in some much needed cash for Toshiba.
Toshiba has reportedly finished the first round of bidding. One of the companies rumored to be interested is Taiwan's Hon Hai, which bid more than $18 billion for the division according to Japan's
Yomiuri Shimbun
newspaper. Also known as Foxconn, Hon Hai is the manufacturer that assembles a majority of Apple iPhone units as well as other big name mobile devices. Last year,
Hon Hai purchased Japanese display manufacturer Sharp for $3.8 billion
.
Toshiba shareholders on Thursday agreed to allow the company to spin off its NAND flash memory business, paving the way for a sale of the memory chip division. Besides Apple, Google and Amazon, other companies said to be bidding on the Toshiba division include Western Digital Corporation (which already runs a Japanese based chip plant with Toshiba), Micron Technology, and SK Hynix Inc. According to reports in the Japanese media, Google and Amazon are interested in using the memory chips for their cloud services.
Toshiba plans on meeting with individual bidders this month.
source:
AFB
,
Reuters