App Store listing suggests iOS 11 will finally let users access the file system
53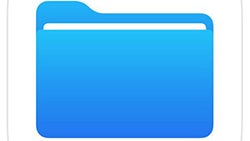 Apple's WWDC 2017 is
just a few hours from now
, and the company is, presumably, doing some last-minute preparations for what we expect to be
several big announcements
. As evidence, we present the short-lived (for now) listing of an Apple-made iOS app called "Files".
For those not aware, iOS has thus far taken a hard stance against letting users access the file system, so as to simplify the overall user experience. And while the question whether this is a good or bad decision is still open, all facts point to it being overturned with the release of
iOS 11
.
Also, the app reportedly requires iOS version 11.0 or higher, meaning it relies on functionality current iOS versions lack, further solidifying this theory. Unfortunately, we don't yet know what the app will look like, as the listing seems to have been simply a placeholder. Its icon, though, a blue file folder, seems pretty indicative of its intended purpose.
Knowing Apple's ways, though, one shouldn't expect full, unfettered access to their device's hard drive – not even Android offers that (without root, that is). Instead, what we're likely to see is a new, user-accessible section which will contain essential files such as photos and music, and to which app developers will have access to, should they choose to. Or in other words, a more convenient way of doing the same things we have been able to thus far.
Ahead of iOS 11, a 'Files' app placeholder entry from Apple appears on the App Store. Requires iOS 11.0 or later pic.twitter.com/8HAQflHBuI

— Steve T-S (@stroughtonsmith) June 5, 2017


via AppleInsider