Angry Birds was downloaded a whopping 6.5 million times on Christmas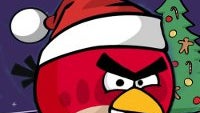 Santa must've made a blockbuster deal of epic proportions with the team over at Rovio, well, either that or people were somehow enchanted by its popular game. In either case, the point is that
Rovio's Angry Birds
is continuing its storied success with no slowdown whatsoever seen with it.
To show off the kind of star power surrounding Angry Birds, Rovio has stated that the game recorded over
6.5 million downloads
on Christmas day alone! Yeah, that's pretty impressive considering the game's long run – but it's nonetheless an impressive single day mark.
Now that figure comes from a variety of Angry Birds games, which include things like Angry Birds Rio, Angry Birds Seasons, and of course, the original one that started it all. However, it's not explicitly mentioned as to how those downloads break down, but it's said that the downloads were from a mix of paid and free apps.
Still, even for a game that boast a 99 cents cost through the App Store for the original Angry Birds game, a small fraction of those downloads can add up to something substantial in the dollars department. So yeah, Santa must've done something big with Rovio, because it seems that the game was quickly on the minds of people on Christmas.
source:
All Things D
via
IntoMobile