Angry Birds championship takes place in Finland, plenty of celebrities compete
1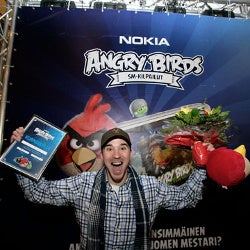 Have you heard of the World Cyber Games? Back in the days when we were little geeks growing up the South Koreans made a short work of pretty much everyone else, and they were the superstars of that era.
As mobile gaming is becoming a craze (we are just reviewing the Sony Ericsson Xperia PLAY, and, believe us, we feel like children again), it's time for a new group of e-superstars to grace the world scene - welcome the Angry Birds champions!
Because you surely don't know it, but the first Angry Birds Championship took place in Finland (where else, really?) on March 26 and the winner is 19-year old Jonas Koivula (another interesting fact - these northern folks also have "The World Mobile Phone Throwing Championship" - sounds refreshing to us).
This event was a Finnish affair through and through - it was a national championship, all handsets used in the competition were Nokia N8s, and even the prize for the winner was nothing else but free N8s and a trip for two to Hollywood.
The great news is that it was a high-profile event - the show was hosted by Finnish popstar Kristiina Wheeler (no, us neither, but a quick check shows she is a big star in Finland), pro snowboarder Eero Ettala was there to show some Angry Birds skills and the winner of last year's Miss Finland went face to face against the runner-up in that beauty contest - we weren't there, but jeez, it sounds like plenty of fun to us.
Now, it would be great if more Angry Birds championships are organized around the world - who knows, if the game continues to rise in popularity, we may see an Angry Birds World Cup at some point in the future - and that would be amazing.
source:
Nokia Conversations
via
Pocket-lint