Androidify 2.0 app is out: drops a hint for Android 5.0 Lollipop, Nexus 6 and Nexus 9
16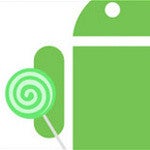 Androidify, the cute green robot designer app, has just gotten updated to version 2.0, allowing you to create all new Android avatars and along the way, it drops a couple of hints for the upcoming Android 5.0 Lollipop (yes, Lollipop), the Nexus 6 and Nexus 9.
How do we know it's Lollipop? Simple, in one of the images for the Androidify app, the green Android mascot is pictured holding a lollipop.
We're just hours away from the expected official launch of Android L, and the unveiling of the Nexus 6 and Nexus 9. The Nexus 6, a Motorola-made smartphone offering a pure Android L experience, and looking a lot like a stretched out Moto X, with a 5.9" display, is a powerhouse that is expected to go on sale in early November.
The Nexus 9, an 8.9-inch tablet made by HTC and said to come equipped with a pair of front-firing speakers, is another powerful gadget that is also the first to ship with Nvidia's Tegra K1 in its dual-core 64-bit version: one equipped with a wide, 7-issue Denver CPU that is said to have its origin in desktop-class processor designs, and with the Kepler GPU with 192 shader cores.