Android: How to turn off SMS notifications for specific contacts in Google Messenger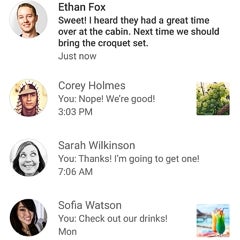 Google's Messenger app has been around since 2014, and, while it may not be the best-looking Android messaging app out there, it's certainly easy to use, and comes with plenty of useful features.
One of the features that Google Messenger is offering is the ability to turn off notifications for specific contacts: if you don't want your Android device to notify you when you're getting messages from certain persons, you can easily disable notifications for those persons only. To do that, you just have to open the Google Messenger app, and long-press on a conversation - you'll then see a pop-up window with several options, one of them allowing you to turn off notifications for the respective contact. It's really that simple, and you can turn notifications on again at any time in a similar manner.