Amazon Kindle Fire HD gets rooted
2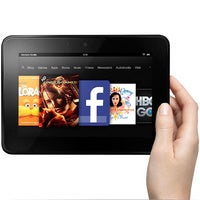 Earlier this week, word had it that the newly-announced
Amazon Kindle Fire HD tablets might be more difficult to hack
than their predecessors. The reasons behind that statement were the processor's advanced security features and the signed bootloader, which prevent users from loading custom firmware onto the slate. In other words, aftermarket ROMs with stock Android builds instead of Amazon's heavily customized, and somewhat limited software seemed like a no-go.
However, there seems to be light at the end of the tunnel now that the 7-inch
Amazon Kindle Fire HD
tablet has been rooted. In fact, anyone who wants to obtain root access on their Fire HD (and void its warranty along the way) is free to open up
XDA Developers
and follow the how-to guide, which has been posted a few days ago.
Now, this doesn't mean that Jelly Bean ROMs will show up overnight as the signed bootloader is still in the way, but it seems like we are off to a good start. That said, in case you feel like tinkering with your Kindle Fire HD's software, check out the source link below. Just keep in mind that you are on your own, so don't blame us should your tablet get bricked along the way.