Amazon Kindle Fire HD Review
9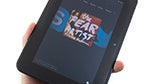 Introduction:
It's funny how things go sometimes, especially in the case for Amazon, who for one, didn't have any piece of the tablet market a year ago. Since the release of the
Kindle Fire
, they've proven to everyone in the industry that they're a force to be reckoned with – even more when the Kindle Fire currently occupies the number two spot right behind the
iPad
in terms of market share. Well people, they're back with an even better model with the
Amazon Kindle Fire HD
, which is gunning to continue their success since it's packing a wallop at only $200. We'll get into the details soon about that, but for right now, let's find out how Amazon fares this time around.
The package contains:
microUSB cable (no charger included)
Getting to know your Kindle Guide
Design:
So what can we say about the Amazon Kindle Fire HD's design? For starters, it doesn't break the mold in any bit, since it's merely just like another other 7-inch slab out there on the market. Nonetheless, it's undoubtedly appreciable and more favorable than the original Kindle Fire. Donning a matte soft touch exterior, it maintains a very clean appearance – while the metallic strip in the rear adds a tiny bit of character. However, despite its rounded edges, the tablet's wide figure in portrait makes it rather challenging to hold with one hand. In all honesty, especially with its $200 price point, we really can't complain about its design.

Unlike their first try, Amazon has blessed the Kindle Fire HD with a
front-facing 1.3-megapixel camera
, that's mainly reserved for video chatting services like Skype, which is preloaded from the get-go. Sorry people, there's no camera app to snap self-portraits.
Towards the
right edge
of the tablet, we're presented with its 3.5mm headset jack, separated volume controls, and dedicated power button. Unfortunately, it's ridiculously difficult to feel out its volume controls and power button since they're flush to the surface. Luckily, we're happy to report they have springy responses when pressed.
In addition to the
microUSB port
found on the tablet, which is provides for charging and data connectivity, Amazon is kind enough to also include a
microHDMI port
for a mirrored experience. To tell you the truth, that's a surprising item to find for a $200 tablet.
Even though we're grateful to find a front-facing camera, there's still no rear-facing camera with this one – nor is there any expandable memory. However, it features left and right
speakers
that are incorporated into the metallic strip of the tablet.
Display:
Sizing up at 7-inches once again, that's the only relationship the Kindle Fire HD has with Amazon's first Android-based tablet. Donning an
IPS LCD display with a resolution of 1280 x 800 pixels
, it's undeniably sharper in every respect over its sibling – both in the detail and color department. Naturally, its pixel density of 216 ppi is ample enough for us to distinguish even the most miniscule of text, and at the same time, it simply boasts a high-contrast appearance combined with a rich
color production
to make it one attractive package. Yet, we do notice just a hint of bleeding around the outer edges, but it doesn't prove to be of any hindrance. Overall, it's a satisfying improvement that's viewable in outdoor sessions with the sun present.
Recommended Stories