Amazon Fire Phone vs Sony Xperia Z2 vs HTC One M8: specs comparison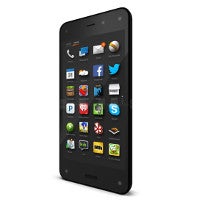 Amazon's first smartphone, the
Fire Phone
, is now a reality, and it's price tag of $199 unlocked puts it in a very precarious position -- it's got to prove enticing enough for consumers to stray away from established brands such as Sony and HTC. And neither is about to go easy on a new entrant.
Equipped with decent, overall high-end specs, the Fire Phone is not at all without ammo, especially if you consider the extras you get on top of the specs sheet. Those include
an intriguing 3D screen
, powered by a set of four cameras that constantly look for and track you head's movements, and feed that data to the screen in order for it to tweak the perspective accordingly. You also get proprietary features that actually add value, like instantaneous live support through Mayday (in less than 15 seconds), a full year of Amazon Prime (unlimited music and video streaming), and even the company's
all-new Firefly service
, which we're feeling quite certain can be both a blessing and a curse for impulse buyers.
But, for many, it ultimately comes down to specs. Wondering what these read like when compared with two of this year's hottest flagships in the
Sony Xperia Z2
and
HTC One M8
? Then you're at the right place.
Display
Technology
S-LCD 3
IPS LCD
IPS LCD
Features
Ambient light sensor, Proximity sensor
Scratch-resistant glass, Ambient light sensor, Proximity sensor
Ambient light sensor, Proximity sensor
Hardware
Qualcomm Snapdragon 801
Qualcomm Snapdragon 801 8974-AB
Qualcomm Snapdragon 800 8974
Quad-core, 2300 MHz, Krait 400
Quad-core, 2300 MHz, Krait 400
Quad-core, 2200 MHz, Krait 400
Adreno 330
Adreno 330
Adreno 330
Internal storage
32GB
16GB
64GB
OS
Android (6.0 Marshmallow, 5.0 Lollipop, 4.4.3, 4.4), HTC Sense UI
Android (6.0 Marshmallow, 5.1 Lollipop, 5.0 Lollipop, 4.4.4, 4.4.2)
Android (4.2.2), Amazon Fire OS UI
Battery
Charging
Qualcomm Quick Charge 2.0
15.00 hours
the

average

is 16 h (968 min)
22.00 hours
the

average

is 16 h (968 min)
28.8 days (690 hours)
the

average

is 21 days (501 h)
11.9 days (285 hours)
the

average

is 21 days (501 h)
20.00 hours
the

average

is 19 h (1110 min)
19.00 hours
the

average

is 19 h (1110 min)
20.7 days (496 hours)
the

average

is 0 days (0 h)
30.8 days (740 hours)
the

average

is 0 days (0 h)
Camera
Rear
Dual camera
Single camera
Single camera
Main camera
20.7 MP (Autofocus, CMOS image sensor)
Specifications
Aperture size: F2.0; Focal length: 28 mm; Sensor size: 1/3"; Pixel size: 2 μm
Aperture size: F2.0; Sensor size: 1/2.3"; Pixel size: 1.12 μm
Aperture size: F2.0
Second camera
4 MP (Depth information)
Video recording
1920x1080 (Full HD) (60 fps), 1280x720 (HD) (120 fps)
3840x2160 (4K UHD)
1920x1080 (Full HD) (30 fps)
Recording format
MPEG4, 3GPP
Features
HDR, Video light, Video sharing
HDR
Video sharing
Front
5 MP
2.2 MP
2.1 MP
Video capture
1920x1080 (Full HD)
1920x1080 (Full HD)
1920x1080 (Full HD) (30 fps)
Design
Dimensions
5.76 x 2.78 x 0.37 inches (146.36 x 70.6 x 9.35 mm)
5.78 x 2.89 x 0.32 inches (146.8 x 73.3 x 8.2 mm)
5.5 x 2.6 x 0.35 inches (140 x 66 x 9 mm)
Weight
5.64 oz (160.0 g)
the

average

is 6.3 oz (179 g)
5.75 oz (163.0 g)
the

average

is 6.3 oz (179 g)
5.64 oz (160.0 g)
the

average

is 6.3 oz (179 g)
Materials
Back: Aluminum
Back: Glass
Resistance
Splash; IP X3
Water, Dust; IP 58
Features
Notification light