Alleged iPhone 5S images leak, smartphone looks familiar
71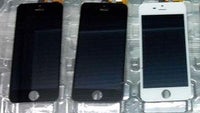 Yup, that's what the
iPhone 5S
will look like, if the latest leak delivered by the rumor mill is to be trusted. Looks quite familiar, doesn't it? In fact, the smartphone in the photos below appears to be more or less identical to the
iPhone 5
.
This could mean one out of two things: either Apple has decided to stick with the current iPhone design while focusing more on upgrading its internals and improving the software experience (just like it did with the
iPhone 4S
), or we're simply looking at iPhone 5 components that a Foxconn employee has secretly snapped photos of.
While we don't have a way of knowing whether the photos are legit or not, this isn't the first time we're lead to believe that the next iPhone will look just like the current model. Rumors from last week hint that the
iPhone 5S upgrades will be mostly under the hood
, and one of them will be a beefier, A7 processor. We're much more likely to see visual changes with the so-called iPhone 6, which is allegedly due to land later in 2013. Interestingly, rumor has it that Apple might also launch a bigger, 5-inch iPhone model, but speculations like these are too wild to be trusted at this time.
Now feel free to investigate the images below. What's your call on this one – true or fake?
Thanks for sending this in!