Actionproof Bozon Apple Watch charging dock hands-on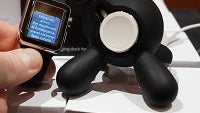 Italy-based Actionproof is all about simplistic style for your Apple products. For the Apple Watch, the addressed a customer pain point and made fun little accessory in the process.
Simply place your Apple Watch charging cable through the body, and pull the cable out of the back leg. Then position the charging plate into the notched opening to hold it in place. Then, you can pull, or coil-in the remaining cable depending on how close to the wall-plug you are.
The leg harnessing the cable has a cap to keep everything together, and then you simply place your Apple Watch over the body of Bozon, et voila! The Apple Watch is charging, it will go into bedside mode, and the four-legged Bozon keeps everything in place rather than the watch lying flat on the bedside table or desk.
Bozon is made of a high-quality silicone, and the combined with the watch's weight while charging and four stubby legs, it should be well equipped to protect your Apple Watch while docked.
The Bozon charging dock is available now through the company's website, fulfilled by Amazon, for $39.99.