Acer Iconia A3 Hands-on
5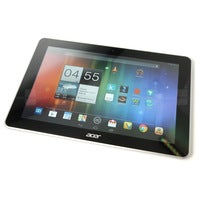 Acer is no stranger to producing reasonably priced tablets of all shapes and sizes, and the Iconia A3 is among the newest slates to join the team. It is a low-cost 10-incher promising to deliver good value for your money, all the while packing a trick or two up its sleeve.
Design, however, isn't one of its strong selling points. The Acer Iconia A3 is made of pretty ordinary plastic that feels quite cheap to the touch, but at least the tablet is light and fingerprints don't stick to its surface easily. Its power key is placed on the left side while its volume rocker is on the right. Down at the two bottom edges are situated the device's okay-sounding stereo speakers. Yet we don't find their placement optimal as the user might accidentally cover them while holding the tablet with two hands.
The widescreen display on the Acer Iconia A3 is definitely usable and gets the job done, but its resolution is average at best. 1280 by 800 pixels of resolution are spread across a 10.1-inch screen diagonal, so the level of detail our eyes are treated to is comparable to what tablets from a couple of years ago delivered. But other than that, colors on it look nice and the viewing angles are satisfactory – not surprising since the panel is of the IPS variety.
A quad-core processor with a 1.2GHz maximum clock speed powers the Acer Iconia A3. It won't set any new performance records, but it is capable of driving Android
4.2
.2 smoothly enough. Speaking of Android, Acer ensures us that the Iconia A3 will be upgradeable to the platform's next major iteration. There isn't a whole lot added to the system's interface, save for a few new widgets, support for Acer's cloud-based services, and the so-called IntelliScreen feature. Simply put, the latter flips the screen towards the user even when the tablet is rotated while lying on a flat surface. Cool, huh?
If you're into taking photos, then we have both good and bad news. The good news is that the Acer Iconia A3 has both a main and front-facing cameras. The bad news, however, is that their quality seems pretty low as far as we can tell.
All in all, the Acer Iconia A3 is nothing but your average Android tablet, but it might be worth considering since it will be marketed at a low price point. The base model, with Wi-Fi connectivity only and 16GB of storage, will be priced at $249 while having twice the storage will cost you $279. A 3G-enabled variant is being planned as well, starting at $299. Expect seeing the Acer Iconia A3 on shelves near you by the end of September.